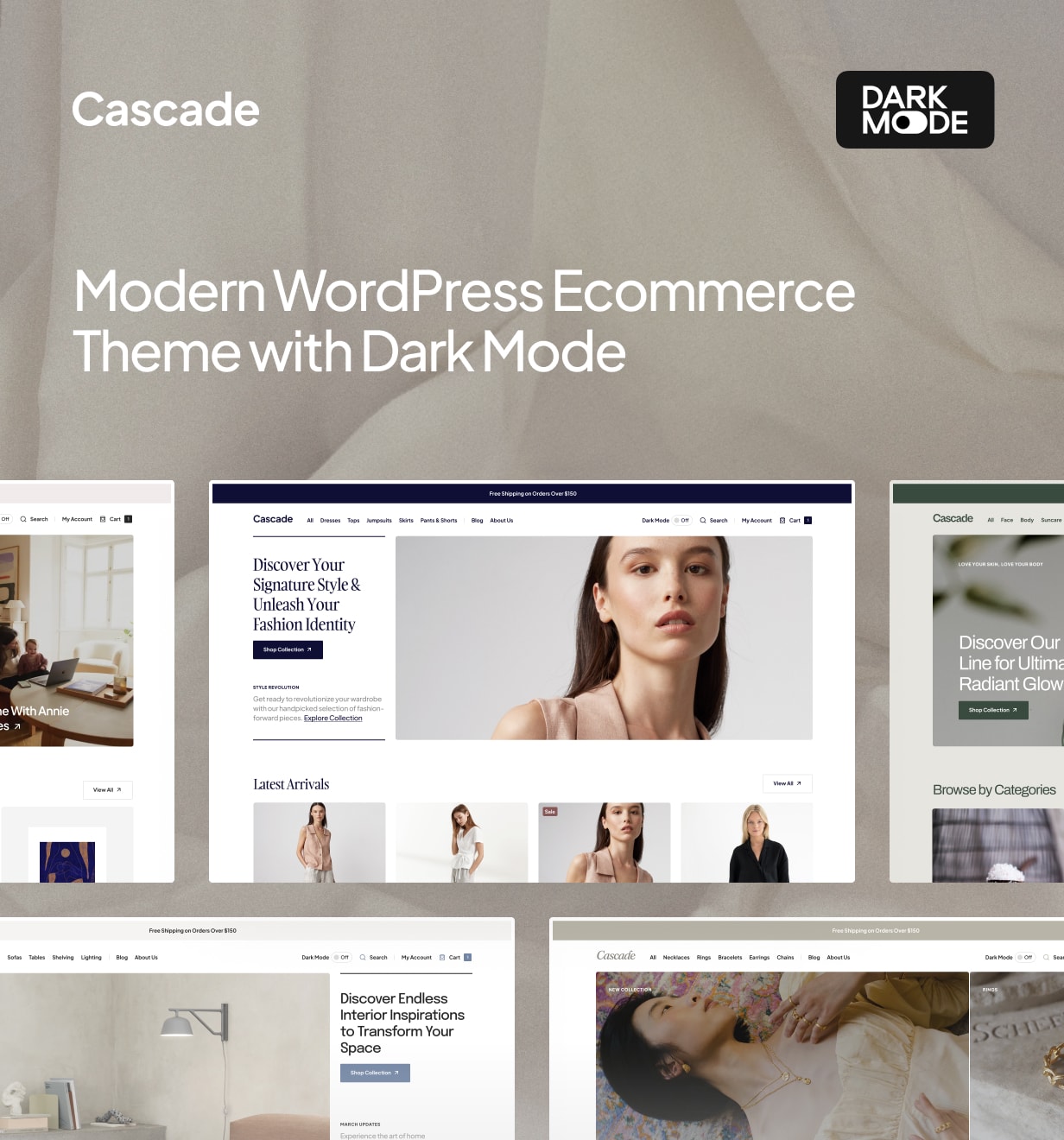 Build a Dynamic Online Storefront with Cascade
Cascade is an eye-catching, stylish theme created to display your diverse product range with exceptional elegance. This theme seamlessly enhances your online storefront, showcasing your products with clear detail and sophistication.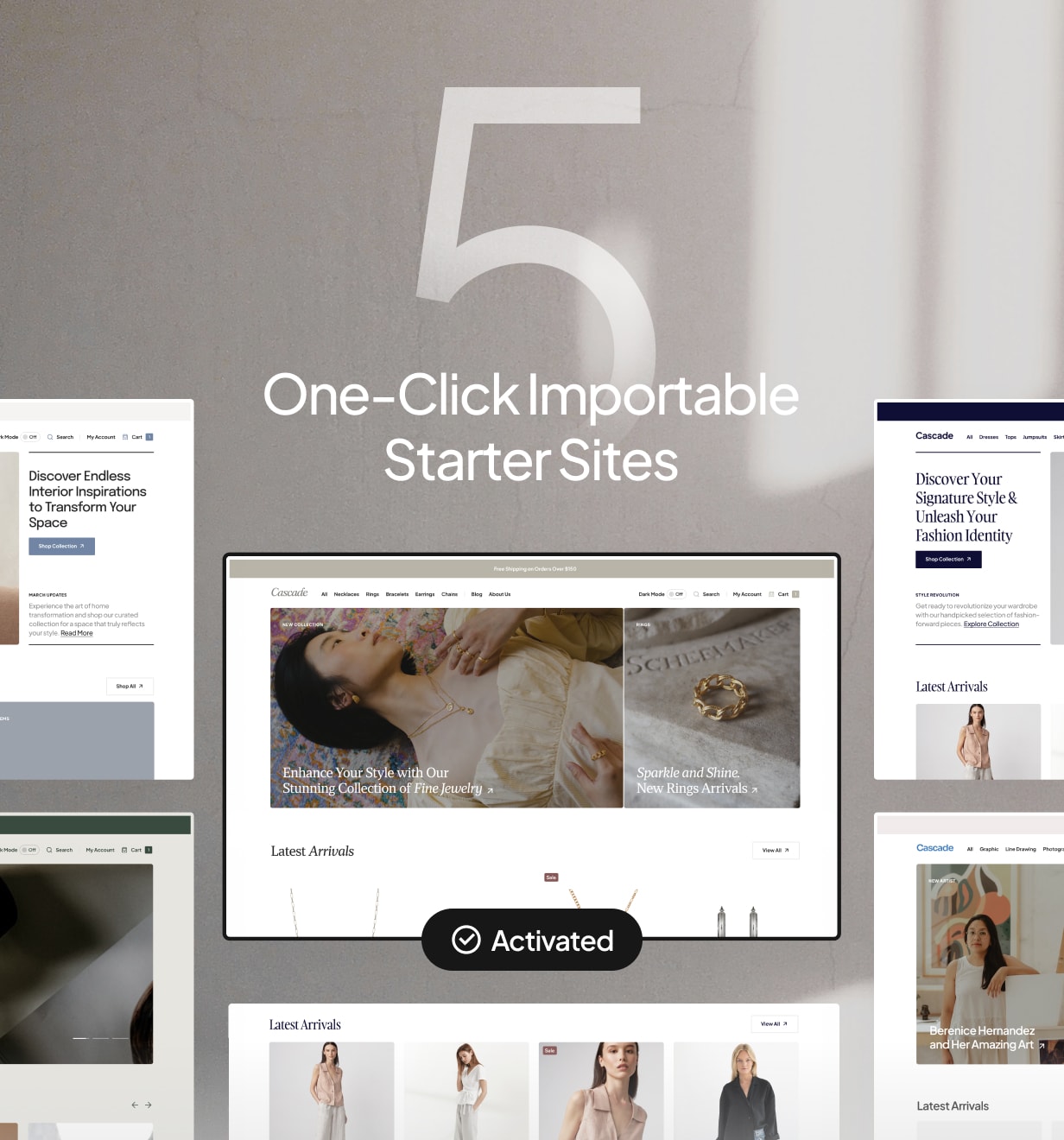 Get Running Fast with One-Click Demos
Get your magazine or blog site up and running lightning-fast with one-click installable starter sites.
Cascade offers unprecedented control and customization at your fingertips. It allows you to import entire demo settings and layouts into your site in just one click, or handpick specific demo elements to import.
Set the stage for your website effortlessly with our streamlined installation process. Our emphasis on simplicity and speed ensures a seamless transition, enabling your website to be up and running in no time.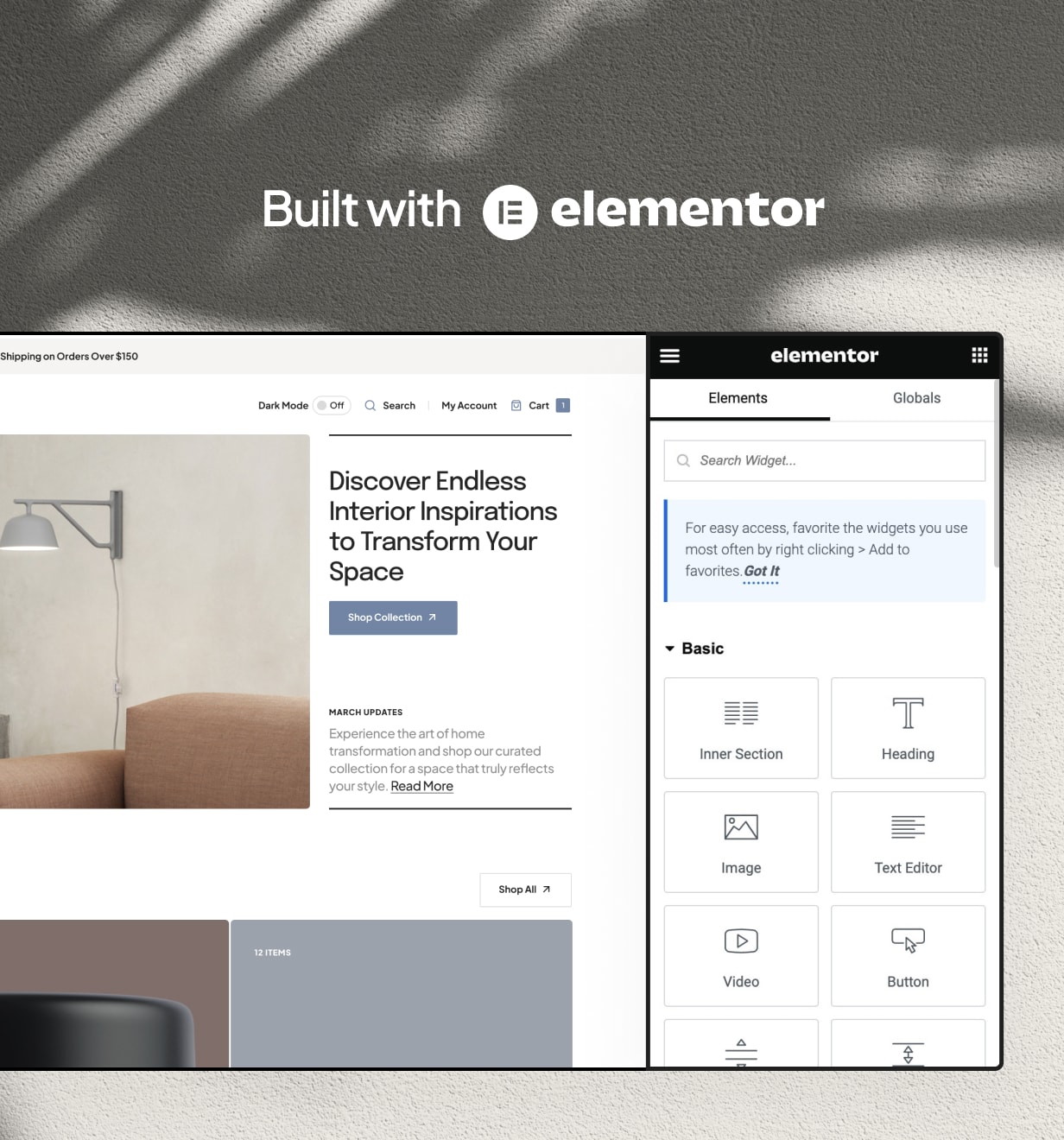 Experience the Elementor Advantage
Built with Elementor, the most popular and powerful website builder, Cascade harnesses the power of an intuitive visual editor for easy customization. It features robust functionality, ensuring that your website is fully equipped to meet diverse requirements. Mobile responsiveness is ingrained in the theme, providing an optimized browsing experience across various devices.
Our Elementor-driven theme integrates seamlessly with various plugins, maximizing its versatility. It has exceptional theme and template-building capabilities, enabling you to create unique website designs that set you apart from the competition.
You also get to be a part of an active community and receive dedicated support, ensuring that any issues you encounter are swiftly addressed. The theme's compatibility with various eCommerce platforms allows you to establish a comprehensive online storefront with ease.
With its front-end editing capabilities, you can see changes as you make them – an entirely live, hands-on editing experience. Plus, it requires no coding skills, making it perfect for both beginners and seasoned website builders who appreciate a streamlined, efficient design process.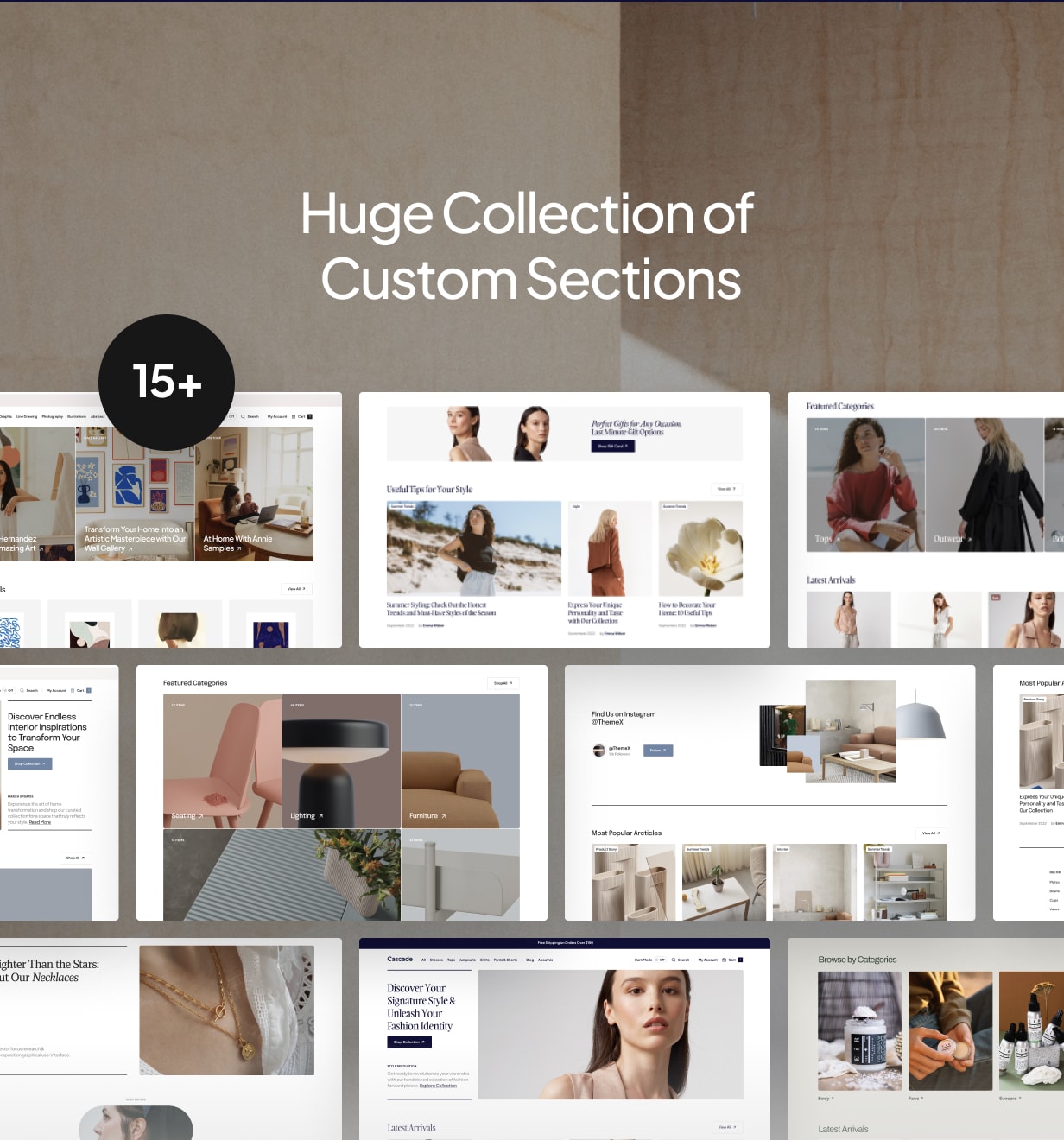 Meet Vast Collection of Custom Section
Boasting a vast collection of custom sections, Cascade is designed to transform every visitor into a buyer. Each section features a unique design, reflecting the careful thought and creativity infused into the theme.
Compared to conventional offerings, our custom sections present improved responsiveness, ensuring that your website delivers an optimal user experience across all devices.
The Cascade's goal is simple yet impactful: captivate visitors with superior design and functionality, and convert them into customers seamlessly.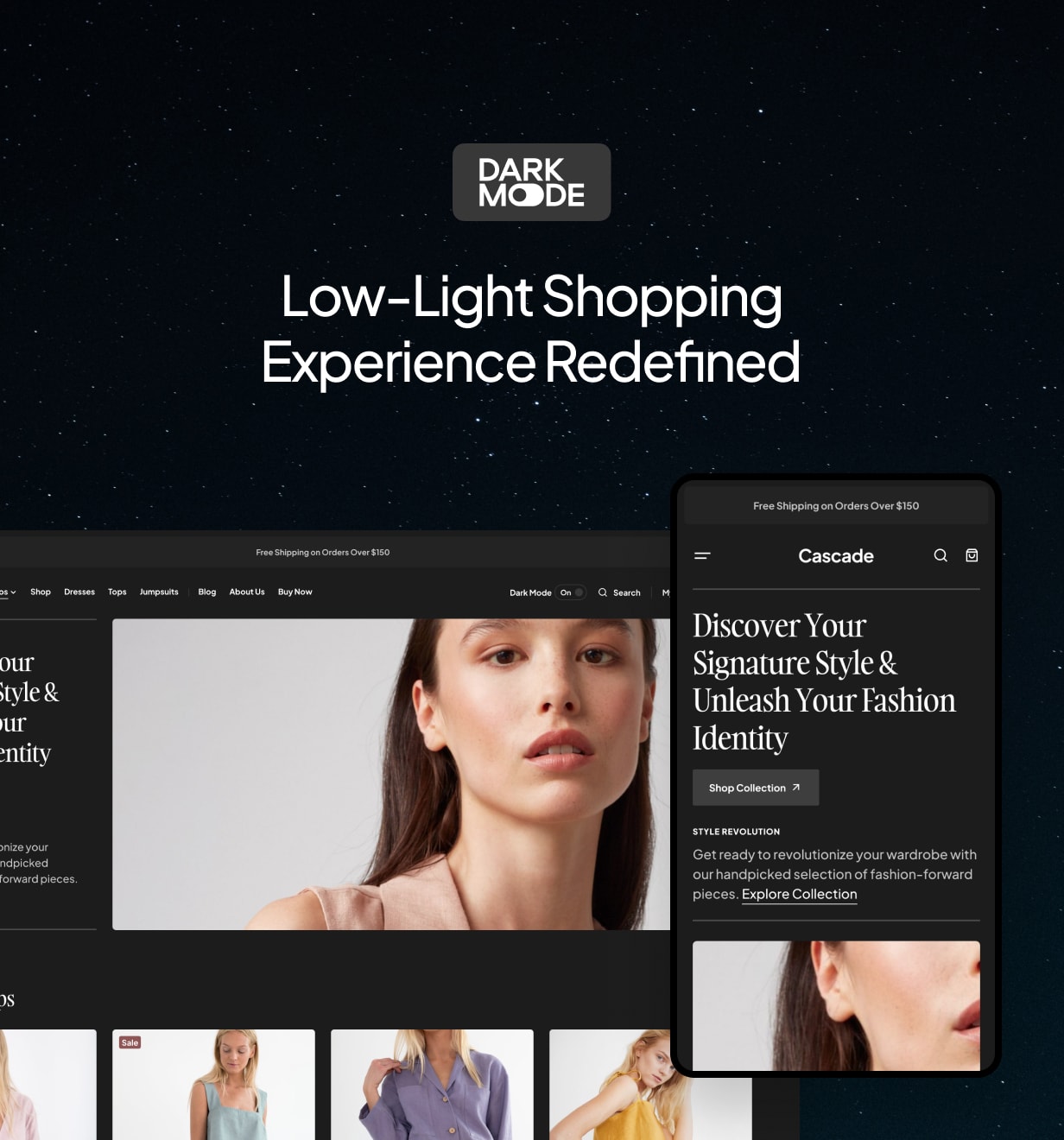 Enhance Your Storefront with Sophisticated Dark Mode
Experience a seamless blend of aesthetics and functionality with our Cascade's sophisticated Dark Mode feature.
At the heart of this feature is a smart mode toggle, designed for a fluid switch between themes, offering your users a comfortable viewing experience tailored to their preferences or environment. This extends into the back-end editor, ensuring a consistent and eye-friendly design interface for site managers.
The Dark Mode goes beyond a simple palette swap, it allows individual color customization, enabling you to maintain your unique brand identity while leveraging the benefits of a darker interface.
Prioritizing user comfort, our Dark Mode reduces eye strain in low-light conditions, making your website a more accessible and user-centric platform. It's not just a mode, it's a thoughtful design decision promoting wellbeing, energy efficiency, and a visually striking interface.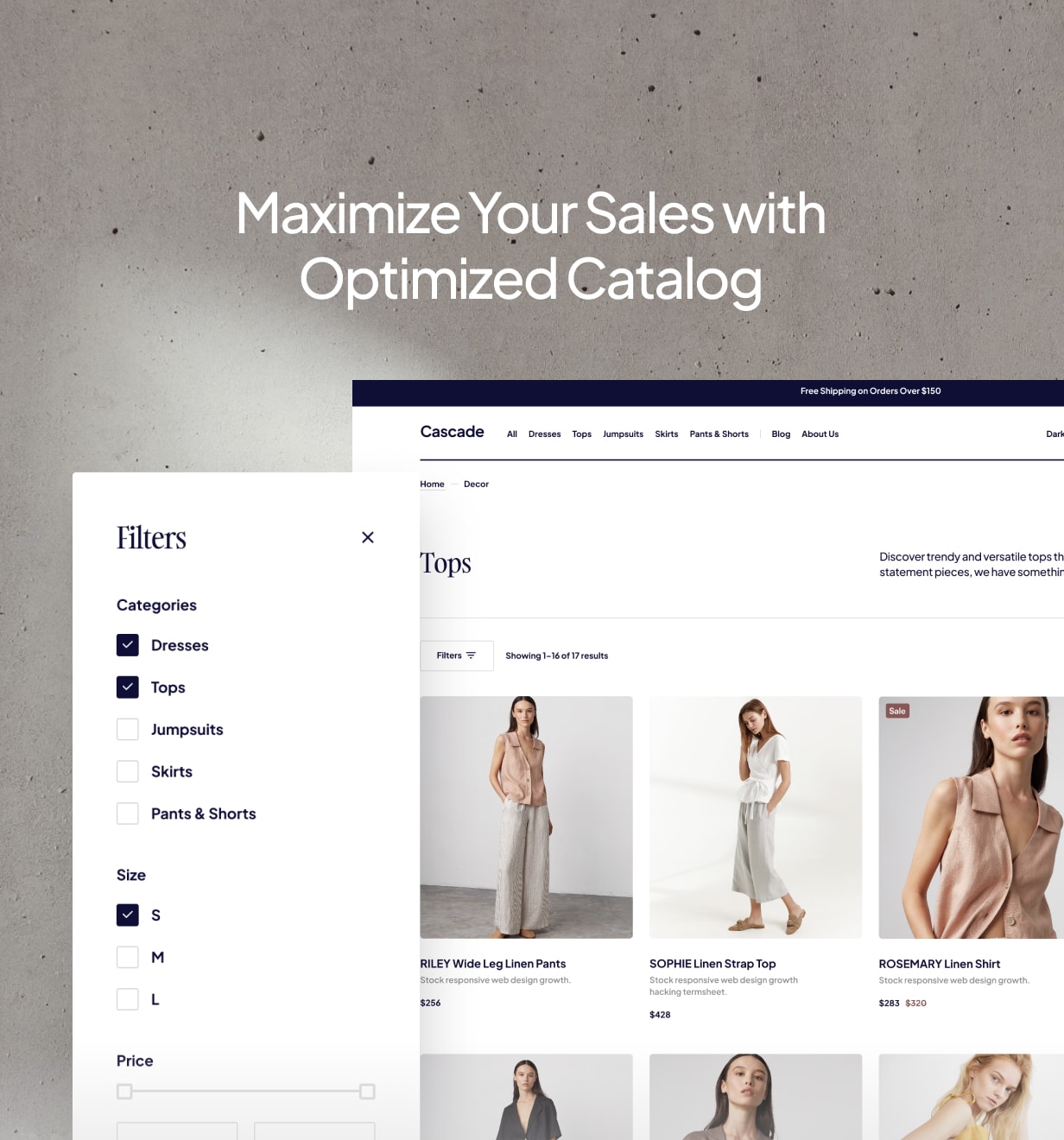 Convert Sales with an Optimized Product Catalog
Cascade is introducing a new level of product display. The theme's product catalog introduces convenient filters that streamline the search process, allowing your customers to find what they're looking for with ease and precision.
The catalog mode enhances the browsing experience by presenting a simplified, yet attractive display of your products. Our unique hover styles provide an interactive experience, adding a dynamic element to your product showcase.
We have also prioritized convenient navigation, ensuring your customers can smoothly explore your catalog. Each product is presented on visually appealing cards that not only display key information but also enhance the overall aesthetic of your online store. With our optimized product catalog, shopping becomes a pleasure, and finding the perfect product is easier than ever.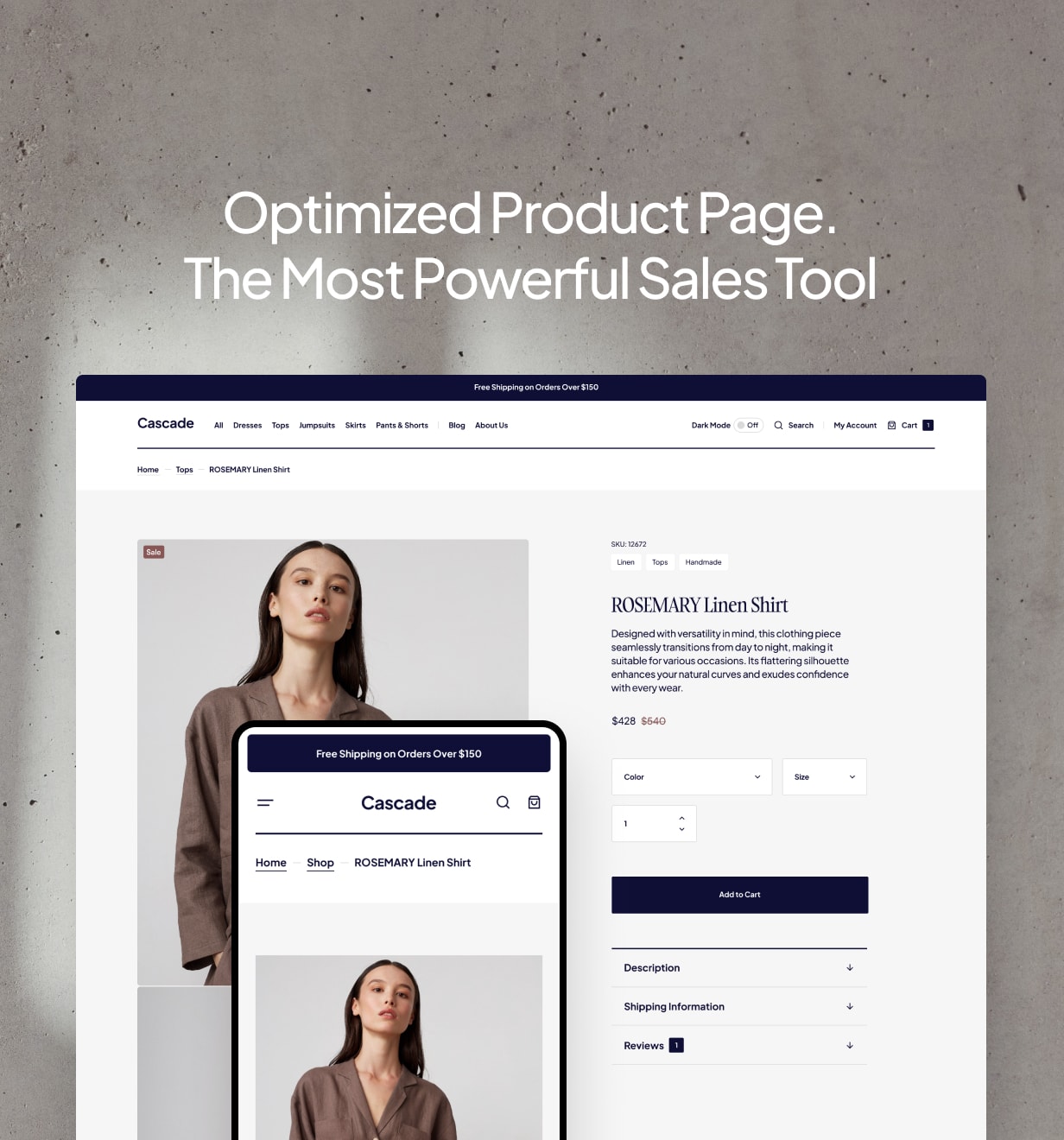 Showcase Products in Style
Experience a comprehensive and detailed view of your products with our sophisticated product display. Incorporated color swatches, give your customers a realistic and accurate representation of product variations. With our product filters, finding specific items or categories becomes a smooth and efficient process.
In catering to different aesthetic preferences and needs, we provide several options for displaying the product gallery. This allows you to present your products in the most visually appealing and informative way possible.
A wide range of product tab styles offer a sleek and organized way to present varying types of product information. With this feature, each product page becomes a comprehensive and interactive showcase, enhancing the customer's shopping experience and boosting the likelihood of purchase.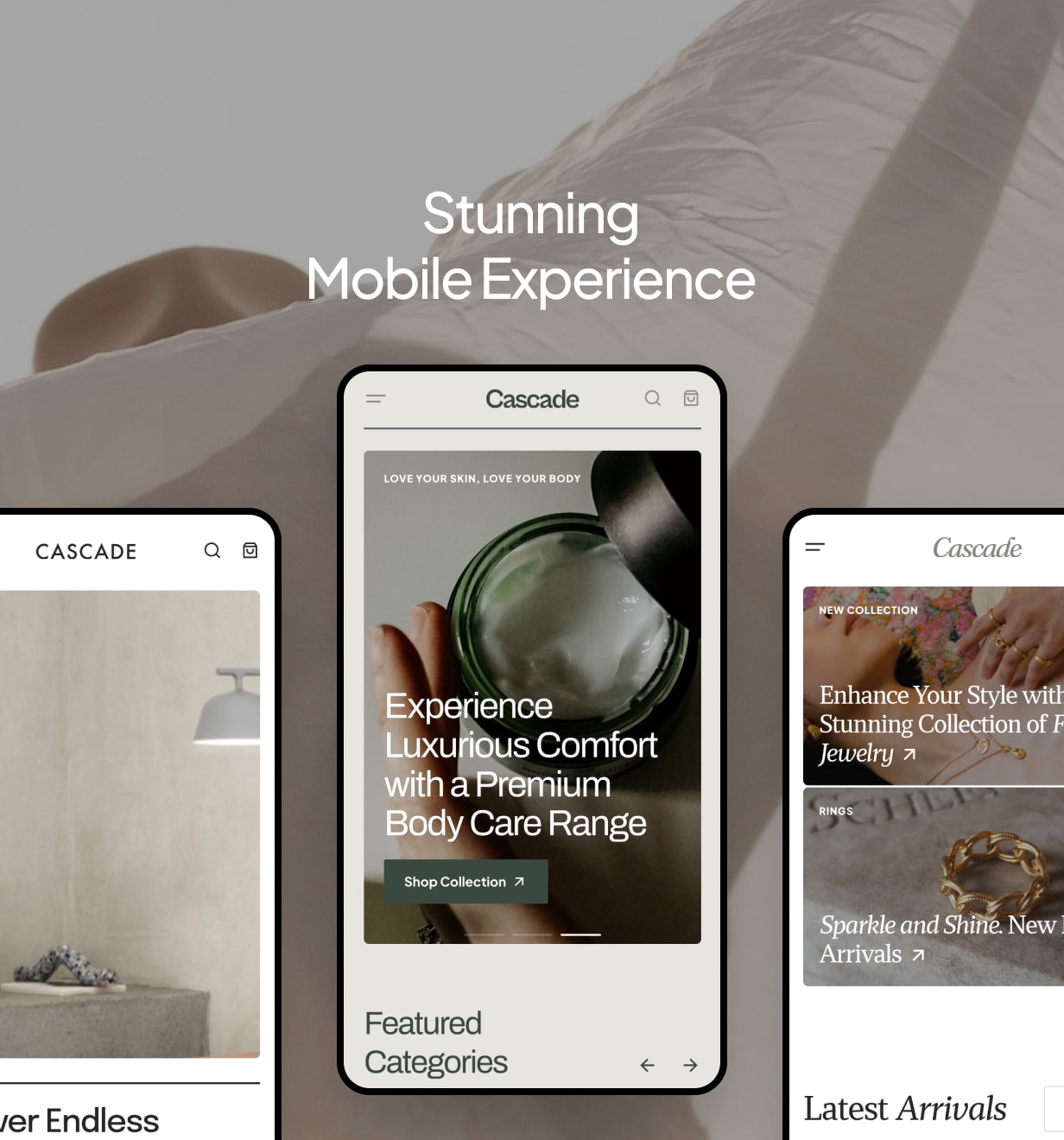 Experience Enhanced Mobile Performance
Cascade theme guarantees swift loading times, fluid browsing, and a responsive user interface on any device.
Enable users to navigate your site with ease, find products swiftly, and finalize purchases effortlessly, irrespective of their device's screen dimensions or layout.
Delight customers with a mobile-friendly browsing experience, complete with tailored fonts, layouts, and color schemes optimized for smaller screens.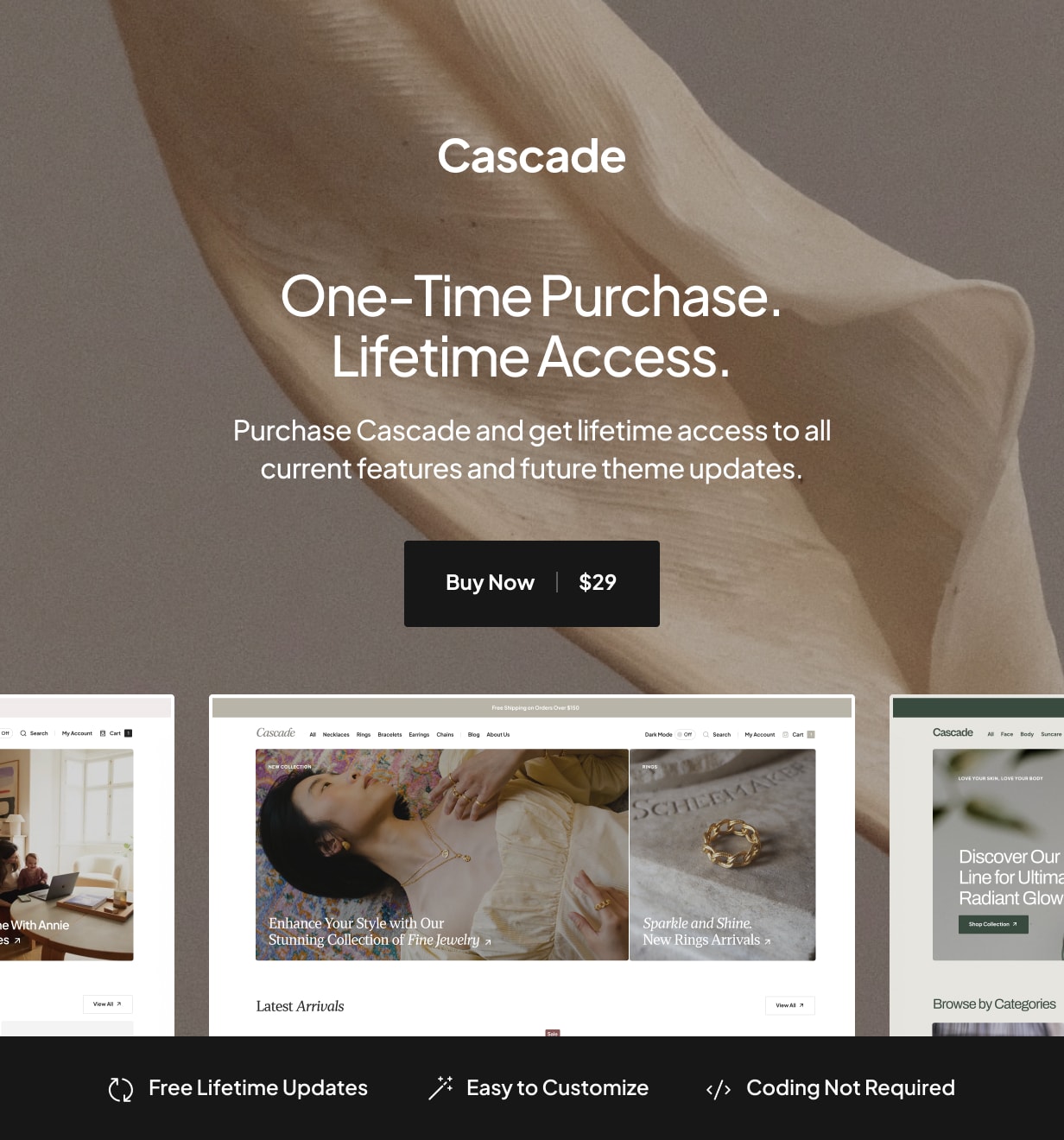 Skyrocket Your Online Presence with Cascade
Start today! Witness the unparalleled power of Cascade for your eCommerce brand.